Back to Location Module
---

Opening a V7 Multi-plot Design in V8
Updated January 19, 2018
---
This article applies to:
RoadEng Civil
RoadEng Forestry
As of Verstion 8, Multi-Plot layouts are no longer included in standard screen layouts. There are two unique layout file types available to Multi-Plot in the Location module:
Book Layout file (.blt) – a book layout file is a collection of chapter layouts.
Chapter Layout file (.clt) – a chapter layout file contains the information for a single layout type. The number pages within each chapter are defined by that Chapter's pagination settings.
To open a V7 output design in V8, follow the process outlined below:
1. In Version 7 - save your screen layout with multi-plot:
Select File | Save screen layout
Name and save the *.dlt file
2. With a design file open in version 8, we will first import the screen layout to ensure our windows and data tables (etc) are configured to match those required in the multi-plot:
Select View | Retrieve Screen Layout
Browse and select the *.dlt file saved in Step 1
Press Open
You will be prompted with a warning that this layout contains old multi-plot information (shown in the figure below).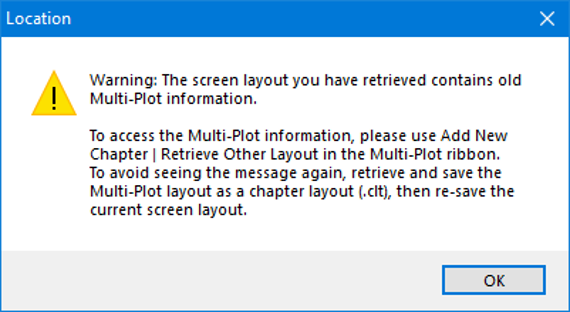 4. The Retrieve Chapter Layout dialog opens, change the file type drop-down to "Multi-plot Old Screen Layoutn (*.dlt)", as shown in the figure below. Browse and locate the *.dlt file. Press Open.
Your old multi-plot should not be shown in the window. You may need to adjust your page size to match (default is size B).
5. You can save this chapter layout for future use: With the new Chapter we imported selected on the left, right-click "Save Chapter Layout".
Finally, to avoid opening the original *.dlt screen layout and getting the same error message, you simply need to re-save it from within Version 8. We recommend minimizing the multi-plot window, and ensuring all your other windows are arranged exactly as you want them. Then select, View | Save Screen Layout and overwrite the existing one.