Back to Location Module
---

Point Label Formatting
Updated November 15, 2017
---
This article applies to:
RoadEng Civil
RoadEng Forestry
Editing Labels with the Mouse
It is often necessary to control the position and format of individual labels. In this section Label Edit mode will be used to adjust individual labels.
File | Open <RoadEngCivil>\Location\Align stage 8a.dsnx.
Right click in the Plan window and select Edit Label Tool from the context menu. This will change the cursor to the Edit Label tool cursor.
Move your mouse cursor over the red 12+00 label, when the cursor changes to a simple cross, left click once.
The label is now selected and should look like the one in the figure below.
Figure 1: Selected Label with Handles Visible
Move your mouse pointer over each of the handles (black squares); the one farthest from the road centerline is a rotation handle .
When in label edit mode, click and drag on a selected label handle to move or rotate the label.
Re-orient and re-position the label until it appears as shown below.
Figure 2: Label after Re-Positioning
Double click on the text of the label you just edited. This opens the Label Selection and Formatting dialogue box.
Figure 3: Label Selection and Formatting Dialogue Box
Select Set as class default label formatting. Press OK.
Unlock the scale by clicking on the lock scale button and zoom extents in the windows toolbar.
Your Plan window should now appear as shown below.
Figure 4: Plan View after Change to Class Format
Floating Labels
Floating Labels can be added anywhere in the Plan or Profile Windows. Floating Labels can have their anchor point moved.
The Edit Label tool cursor should still be enabled. If not, right click in the Plan window and select Edit Label Tool.
Right click anywhere in the Plan Window. Select Plan Options. Press the plus button beside Labels. Double click on Floating Labels to turn then on. Press OK twice to return to the main screen.
With the label edit tool , click the left mouse button anywhere in the Plan Window to open the Label Selection and Formatting dialogue box.
Change "xxxxxxxx" to "Rock cut section". Click on the Position tab and change the Leader to have a 28mm Offset and an Arrow Connector. Press OK; the floating label will appear where you first clicked the mouse.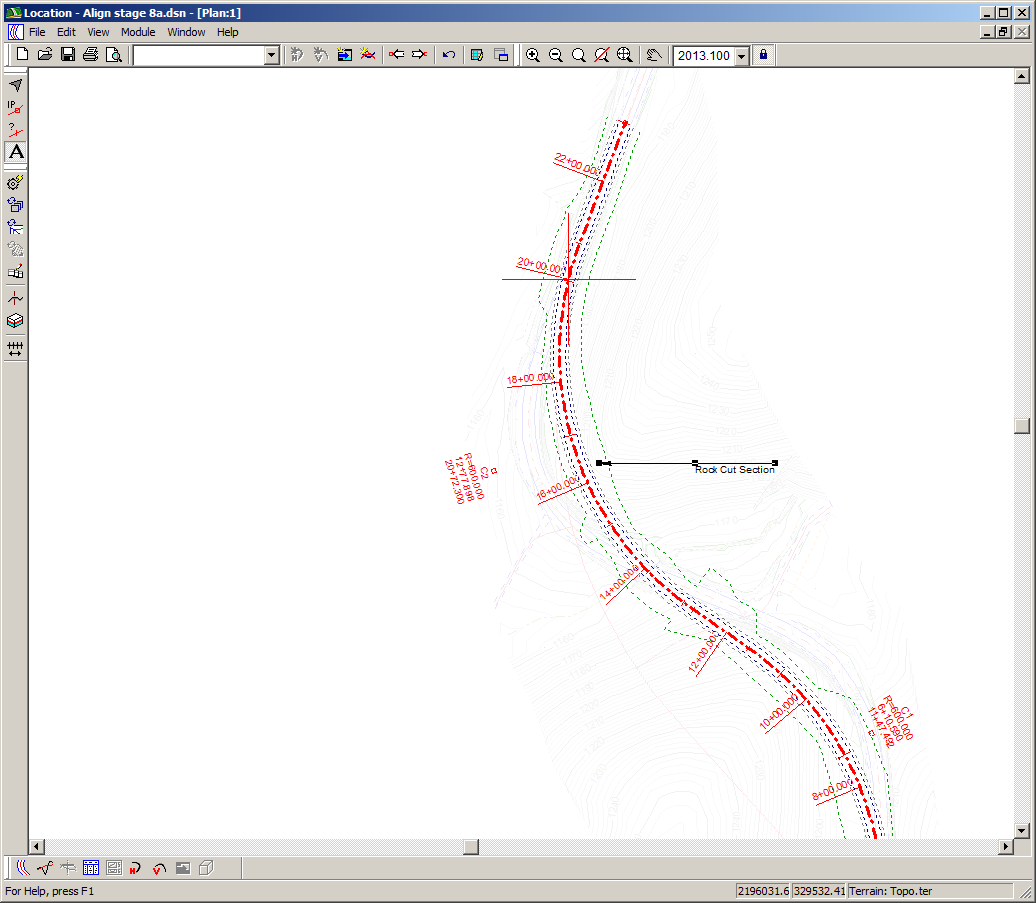 Figure 5: Plan with Floating Label
File | Close. Do not save changes.