Back to Softree Optimal
---

Enabling Softree Optimal Function Groups with Older RoadEng Design Files
Updated October 03, 2016
---
All new design files will have the Softree Optimal function group enabled. But for older RoadEng design files you will need to manually enable the Softree Optimal function group.
---
To enable the Softree Optimal Function Group:
Open the Location Module
Open a design file (.dsn)
Select Module Setup from top tool bar
Select the General Tab
Click on Menus to view Function Groups
Scroll to the bottom of the list. Softree Optimal will be greyed out (available but not enabled)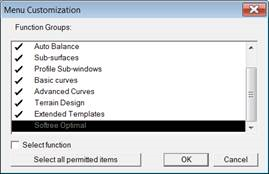 Click on Softree Optimal and then press "Select all permitted items"
Press OK and close module setup.
Save the file. (You will not need to repeat these steps for this design file in the future)
If another user who does NOT have Softree Optimal opens this file they will receive the following warning.
They should select Disable file function which are not currently permitted. They can confirm which Function Group is not available by viewing Menus.